My Songs
Listen To Velvet Revolver!!!
About Me
Slash 1 Million Dollars Civil Suit!
Saturday, 28 June 2008
Velvet Revolver guitarist Slash and his wife, Perla, can move forward with a $1 million civil suit they filed against a real estate agent and his firm, alleging they were duped into buying a house that did not have the amenities they expected, a judge ruled today.
The suit, filed last November in Los Angeles County Superior Court and amended in mid-March, names Gregory Holcomb and Sotheby's International Realty as defendants.
Judge Mel Red Recana denied defense motions to dismiss the portions of the suit alleging fraud, constructive fraud, negative fraud and breach of fiduciary duty, and to strike the claim for punitive damages.

He scheduled a Feb. 17 trial date and urged both sides to consider resolving the case with the help of a mediator.
The couple allege they thought they had found their dream house in December 2005 and believed it was on a private, gated street in the Hollywood Hills. Although the street is gated, it is public and has very little parking, according to their court papers.
The rocker and his wife also say the home was much smaller than 7,800 square feet, as listed, and that there were other issues with the title to the property.
"It's hard to imagine conduct that is worse than a real estate agent intentionally misleading and/or withholding critical information from a purchaser so that a sale would close and a commission would be paid," their court papers state.

But the defense court papers maintain that Holcomb and Sotheby's had no way of knowing that the Multiple Listing Service description of the home was incorrect and that it was not actually on a private street.
For those that dont already know, Slash, whose real name is Saul Hudson, became famous as the lead guitarist for Guns N' Roses.

Labels: 1 Million Dollars, Civil Suit, Slash, Wife
posted by Unknown @ 09:16

Gibson Les Paul Slash Signature Review
Thursday, 26 June 2008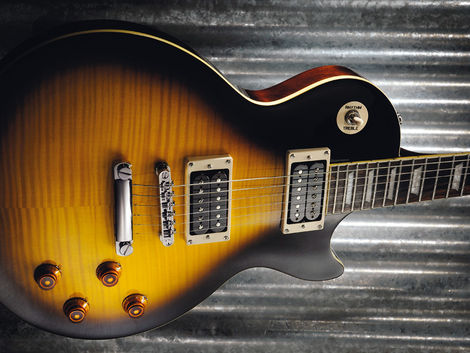 This is the guitar that i want, i mean it looks beautifull, it sounds great(from what i heard), so here is a review for all the people that want to know what the fuss about Les Paul's is about...
Features:
Made in the USA. 22 frets. Mahogany body and neck, with the neck being set to Slash's personal specifications. It is so thin and comfortable it blows every other Les Paul I've played away. Beautiful flamed maple top. Tonepro stop
bar
and bridge. 2 tone, 2 volume controls and 3-way selector switch. Seymour Duncan Alnico Pro-II humbuckers. Non-locking Kluson copy tuners.// 10
Sound:
I play from classic rock to metal and it fits perfectly no matter what I am playing. It can do sweet
clean
tones, metal crunch, and everywhere in between depending on how you set your amplifier. It's not noisy at all.// 10

Action, Fit & Finish:
It was set up perfectly, the action was great. The pickups didn't need any adjustment.
The bridge
was properly routed. I can't find any flaws on the whole guitar and I've looked over the entire thing in and out. The finish looks beautiful and can looks like it will last as long as I own the guitar. All of the chrome is perfect. The pickup selector isnt noisy at all. Everything was perfect right out of the box. // 10
Reliability & Durability:
This guitar seems like it can take abuse well, my friend smacked the bottom against a chair and it didn't leave a mark. The hardware is totally solid and seems like it will last. I replaced the strap buttons so I don't really know. I could easily gig without a backup, but anything could happen so I would always bring a spare just in case. The finish seems just as solid as the rest of the guitar. // 10

Impression:
I play anything from classic rock to metal and it can do it all with just a little adjustment of your amplifer. I have been playing for only 5 years but that doesn't mean I don't know what's good. I also have an Epiphone Les Paul with EMG pickups and a B.C. Rich warlock all played through a Marshall amp and there isnt even a contest. If it were stolen or lost I would definetly get a new one no question. I love the skull and crossbones picture on the headstock instead of the "Les Paul model". It just looks badass. I love everything about it, and I can't seem to find anything I hate. Like I said it before I compared it to some
guitars
in a guitar shop and it blew them all away. They was a Dean ML, a Paul Reed Smith Mira, a
Gibson Flying V
, a Gibson SG, and a
Gibson Les Paul Studio
all played through a Marshall amp and the only thing that even came close was the SG and and Mira but it still outshined all of them. I only wish the case came with a lock so my friends can't steal it but that's the only thing. If you get the chance buy one. // 10

Features:
10
Sound:
10
Action:
10
Reliability:
10
Impression:
10
Overall rating:
10
CREDITS TO: Ultimate Guitar
Want Another Review? Leave A Comment...
posted by Unknown @ 17:59

CHILDREN OF BODOM Frontman: 'I'm So Not Into The Whole BLABBERMOUTH Bullsh*t'
Monday, 23 June 2008
UK's Zero Tolerance magazine recently conducted an interview with CHILDREN OF BODOM guitarist/vocalist Alexi Laiho. A couple of excerpts from the chat follow.
On the element of CHILDREN OF BODOM's non-fanbase that views him as a bleach-blond pretty boy who insists on making all the rules in his band:
Alexi: Well, the thing is, I write the music and lyrics. The other guys do participate, and we work and rehearse together as a band. Still, there has to be someone who calls the shots, otherwise nothing gets done. I can settle disagreements and be a deciding vote without being a f*cking dictator. I guess what I'm trying to say is that those people who think that way also do not live my life. They can think what they want, and I don't care."
On Internet criticism that CHILDREN OF BODOM hasn't paid the dues for the ride which the band currently enjoys:
Alexi: "I think we have. First, we've been doing this sh*t since we were 13 and 14, and didn't get anything even released until after five years of practicing. We did well enough on that first album to make a second, and well enough on the second to make a third, and so on. I'm not going to intentionally make bad music so that people can feel better about themselves. . . I'm so not into the whole Blabbermouth bullsh*t, either. I barely go to our own homepage anymore. I have more important things to do than worry about the three guys online hugging each other, trying to decide if I'm 'metal enough' or not."
Labels: Blabbermouth, Children Of Bodom
posted by Unknown @ 17:38

Bullet For My Valentine UK Tour!
Saturday, 21 June 2008
Here'
s something that i'd love to got to!
This November Bullet will be back playing on their native shores.You can see them at:
09/11/2008 - Edinburgh - Corn Exchange
11/11/2008 - Plymouth - Pavillions
12/11/2008 - Birmingham - Academy
15/11/2008 - London - Alexandra Palace
16/11/2008 - Manchester - Apollo
The band will play a series of shows in November, following performances at the Download and Reading And Leeds Festivals this summer.
To check the availability of Bullet For My Valentine tickets and get all the latest listings, go to NME.COM/GIGS now, or call 0871 230 1094.

Labels: Biggest, Black Tide, Bleeding Through, Bullet For My Valentine's, Lacuna Coil, November 2008, Scream Aim Fire, UK Tour
posted by Unknown @ 12:43

G'N'R New Album - Chinese Democracy
Thursday, 19 June 2008
Chinese Democracy is the upcoming sixth studio album by the American rock band Guns N' Roses. When released, it will be the band's first album since 1993's "The Spaghetti Incident?", and their first album of original studio material since the simultaneous release of Use Your Illusion I and II in September 1991. In a 2007 interview, Axl Rose's close friend Sebastian Bach stated that Chinese Democracy will be the first installment in a trilogy of new albums. Bach also remarked that Rose had told him the third, as of yet untitled, album has been slated for 2012.

Recording for Chinese Democracy began in 1994. Ex-bassist Duff McKagan is quoted as saying, "[the] band was so splintered at that point that nothing got started".Slash has criticized Rose for making the band seem "like a dictatorship". In his autobiography, Slash, Slash writes that his departure from the band in 1996 was caused by "Axl wanting control to the point that the rest of us were strangled".Slash quit the band in 1996; drummer Matt Sorum and McKagan left soon afterwards. Slash was replaced by Nine Inch Nails touring guitarist Robin Finck, ex-Replacements bassist Tommy Stinson replaced McKagan, and Josh Freese joined as the drummer.
In early 1998, the band — which comprised Rose, Finck, Stinson and Freese along with long-time Guns N' Roses associate Paul Tobias, keyboardists Dizzy Reed and Chris Pitman — began recording at Rumbo Recorders, a state-of-the-art studio in the San Fernando Valley where Guns N' Roses had partially recorded parts for their debut album, Appetite for Destruction. During this time, Geffen paid Rose $1 million to try and finish the album; with a further $1 million if he handed it in to them by March 1, 1999.
Finck briefly left the band to rejoin Nine Inch Nails on tour in 1999. In 2000, Rose hired avant-garde metal guitarist Buckethead, and drummer Bryan "Brain" Mantia, who has appeared on many of Buckethead's solo albums, to replace the departed Freese. Later on in 2000, Finck rejoined the band as the third guitarist.
On February 22, 2007, the band's road manager, Del James, announced that all recording for the album had been completed and it was in the mixing process, James stated that there was no release date for the album but that things appeared to be moving on after a number of delays.
In the summer of 2007, the band begun touring again; playing in Mexico, Australia, New Zealand and Japan. The tour was supposed to begin with two performances in South Africa, including headlining the My Coke Fest, South Africa's biggest music festival, in late April/early May but they were cancelled after bassist Stinson injured his wrist after falling down a flight of stairs.
On March 26, 2008, various media outlets reported that Dr Pepper will offer a free can of Dr Pepper to everyone in America — excluding former Guns N' Roses guitarists Buckethead and Slash — if the band releases Chinese Democracy in 2008. Later on March 26, Rose replied to Dr Pepper on Guns N' Roses' official website and spoke of his surprise at Dr Pepper's support. Rose also said he would share his Dr Pepper with Buckethead as "some of Buckethead's performances are on [Chinese Democracy]".
posted by Unknown @ 16:33

Drummer Dies On Tour...
Wednesday, 18 June 2008
First of all i would like to apologize for not posting for awhile for i have been trying to nail Sweet Child O Mine by Guns N Roses, but hopefully this wont occur again....
Drummer
Traci Michaelz of the long-running Hollywood, California glam
band
Peppermint Creeps passed away on Friday, June 13 after the group's concert in Ft. Worth, Texas.
He was 34 years old. According to the surviving members of PEPPERMINT CREEPS, "the cause of death is still unknown" and will likely take several weeks to determine.
Commented the band: "[We] were with him for two weeks on the road. He was the happiest we have seen him in such a long time. He was doing what he loved the most.
posted by Unknown @ 17:42

The Largest Guitar In Portugal!!!
Saturday, 14 June 2008
Well, this is a video that shows you about the portuguese guitar and portuguese music, and it also shows you my homeland.......Portugal.........This guitar was built by hand, you can even go inside it!!!! Watch it, you wont regret it!
Labels: giant, guitar, music, portugal, portuguese
posted by Unknown @ 19:20

5 Songs You Should Learn!!!
Friday, 13 June 2008
When i started playing the guitar, all i wanted to do was play a full song and every time i tried playing a song i always gave up after the intro, so i got fed up and decided that i would learn a full song, but i couldnt think of a good song not too hard nor to easy, so this is the list of songs i think you should try, i will also put links up so you can see the tab:

1:
Sweet Child O' Mine - Guns N' Roses
, okay this song is hard to begin with but ive been trying to learn it for about 4 weeks and i can play the intro (not perfectly, but im getting there), the verse (in powerchords, which if youre a beginner i advise you to learn) the chorus (powerchords) and the 1st and 2nd solos, and im working on the last solo. When i finish the song i will post it up in my songs section.....

2:
Great Balls Of Fire - The Misfits
, the solo is pretty hard, but you'll get there eventually.

3:
7 Nations Army - White Stripes
,
pretty easy....
4:
TNT - AC/DC
, this song is pretty easy even for a beginner, it just repeats itself, solo is pretty hard but just keep at it......
5:
Holiday - Scorpions
, Well the first part and last part are pretty easy, i dont know about the rockish part in between...
So there you are, remmember click on the name of the song to see the tabs for it.......

Also, im sorry if the tabs are wrong, i tried to find the best ones so hopefully they're good.
Tabs: Credits to Ultimate Guitar
Labels: 5, Beginner, Guns n Roses, Songs, Sould Learn, TNT
posted by Unknown @ 16:33

Slash Working on Solo Album, Not Waiting on Velvet Revolver
Thursday, 12 June 2008
While media and fans keep speculating on a new singer for
Velvet Revolver
,
Slash
isn't waiting around, but rather, keeping busy with solo project. "I'm working on it pretty aggressively right now while I have the time cause as soon as Velvet finds its singer, then it's going to be off the races with that," he tells Spinner.

"I'm using this little period to be able to do as much on my solo record as possible. I'm not sure exactly when it will come out, but hopefully it will come out before the Velvet record.""It'll be my first solo record," he" continues. All the other ones were just me putting other bands together and going out and just jamming. This will actually be a little bit more personal."

Slash was in a bit of a reflective mood when he spoke to Spinner as it was just after he was honored for his sobriety at a MusiCares event in L.A. There, Slash shared the stage with Steven Tyler, who presented him his award, fellow honoree
Alice Cooper
,
Cheap Trick
's Robin Zander and Camp Freddy. "When I was 14 years old, I was going to Cheap Trick,
Aerosmith
and Alice Cooper gigs," he says. "And if you told me, 'In the future, you're going to be jamming with Steven Tyler, Robin Zander and Alice Cooper,' I never would've believed it. That would've been an premise."

Slash recalls listening to Aersomith's 'Rocks,' which shaped his wild partying days. "One song in particular, which really represented who I was at 15, was the song called 'Nobody's Fault,'" he says. "Listening to it now, you can only imagine what a sort of slightly sleazy, bloodthirsty kind of kid that I was."

Like many artists who danced with 'Mr. Brownstone' and its ilk, Slash considers himself fortunate to now be sober and a family man. "The music was great and then to just really put the icing on the cake, you have booze, drugs and sex -- just this total freedom," he says. "But you're teetering on the edge if not dangling by one foot the whole time and you're lucky if you can come
out the other end."

Credits to Spinner.com
posted by Unknown @ 16:38

Mettalica To Magnetica?
Wednesday, 11 June 2008

METALLICA has posted a mysterious image (see above) on its official web site under the headline "???," leading to speculation that this is the cover of the band's much-anticipated new studio album.
The
CD
is due out in September, with the title expected to be announced soon through the new Mission: Metallica web site. METALLICA will play Tennessee's Bonnaroo festival on Friday, June 13, and the one-day Ozzfest in
Dallas
on August 9, with a full North American tour in the works for the fall.
Just one day after several UK web sites posted early reviews of six new METALLICA songs that were previewed for them in London last week, the reports were all taken down, reportedly at the request of the band's management. One site, The Quietus, told Blinded By The Hype that its reporter at the listening session was not asked at the time to hold back from reporting on what he heard or sign a non-disclosure agreement.
The site itself was later contacted and asked to remove the article, which it did to "protect the professional interests of the writer concerned."A representative for METALLICA's management had no comment on the matter, according to The Pulse of Radio.
posted by Unknown @ 17:59

MÖTLEY CRÜE: New Song Posted Online
Tuesday, 10 June 2008
A new MÖTLEY CRÜE track, "Mutherfucker Of The Year", is available for streaming on the band's
MySpace page
. The track comes off the group's new labum, "Saints of Los Angeles", which will be released in Japan on June 18 with the bonus tracks "Kickstart My Heart" (Live & Rare) and "Saints Of Los Angeles" (Live & Rare). Short audio samples of all 13 tracks that are set to appear on the U.S. version of "Saints of Los Angeles" are available on
Amazon.com
.
MÖTLEY CRÜE headed back into the studio last month to record another song for "Saints of Los Angeles". As a result, the disc's U.S. release date had to be pushed back from June 17 to June 24. Bassist Nikki Sixx said in a statement that the idea for the new song, entitled "Goin'Out Swingin'", came about before the group's recent press conference, in which it announced this summer's "Crüe Fest" tour with PAPA ROACH, BUCKCHERRY, TRAPT and SIXX: A.M. Sixx explained, "Before our
performance
at the press conference, we were firing on all cylinders at sound check just jamming out, and that's when the new idea came.
We quickly laid it down and went to the studio to record it, and liked it so much we pushed back the release one week so that we could get it onto the album — it now has 13 tracks. It's the ultimate song to end the record with and begin the new chapter of our career."According to Amazon.com, "Saints of Los Angeles" will feature the following track listing:
02. Face Down In The Dirt
05. Saints Of Los Angeles
06. Mutherfucker Of The Year
11. This Ain't A Love Song
An e-card for "Saints of Los Angeles", can be accessed at
this location
. A countdown widget for the CD is available below.The album is loosely based on the band's memoir, "The Dirt", which was published in 2001. The CD will be the first to feature all four original members of the CRÜE since 1997's "Generation Swine". "Crüe Fest" will kick off on July 1 in West Palm Beach, Florida, hitting 40 cities before wrapping up in late August.
On June 25, a 10-album Japan-only cardboard sleeve reissue series from MÖTLEY CRÜE will be made available featuring the following LPs:
"Too Fast For Love" (1981)
"Shout At The Devil" (1983)
"Girls Girls Girls" (1987)
"Generation Swine" (1997)
"Supersonic & Demonic Relics" (1999)
"Live: Entertainment Or Death" (1999)
Each cardboard sleeve reissue features a high-quality SHM-CD disc (playable on standard CD players).
posted by Unknown @ 16:54

Lucky Lucky Americans!!!!
Monday, 9 June 2008
According to Reuters, Australian hard rock legends AC/DC will sell their new album only through Wal-Mart Stores Inc., the Wall Street Journal reported on its web site on Sunday, citing unnamed sources.
AC/DC becomes the latest veteran act to pact exclusively with the retail giant, following GARTH BROOKS, THE EAGLES and JOURNEY.The AC/DC album is expected to come out in the fall, the paper reported. The follow-up to 2000's "Stiff Upper Lip" was recorded at a Vancouver, Canada studio with producers Brendan O'Brien and Mike Fraser.
The disc will be AC/DC's first for Sony BMG's Epic Records label, which reissued the band's back catalog a few years ago. O'Brien is also known for his work with STONE TEMPLE PILOTS, PEARL JAM, AUDIOSLAVE and VELVET REVOLVER, among others. "Stiff Upper Lip" has sold more than 930,000 copies in the United States, according to Nielsen SoundScan.
VH1 Classic host Eddie Trunk recently revealed on his New York radio show that AC/DC was rumored to be planning a "farewell" tour for later in the year. The band itself is now international, with members scattered across the globe. Malcolm and Angus Young divide their time between Britain and Australia (with Angus also spending time in the Netherlands because he has a Dutch wife). Singer Brian Johnson and bassist Cliff Williams are based in the U.S., while drummer Phil Rudd lives in New Zealand.
Labels: AC/DC, Debut Album, New, Strap It On, Wallmart
posted by Unknown @ 16:44

Dave Mustaine Walks Off Gig!
Sunday, 8 June 2008
MEGADETH mainman Dave Mustaine has posted the following message in the "Forums" section of the band's official web site:"Over the last six months, we have had almost a dozen [road crew] changes at monitors and sound due to visas, deaths, and inadequacy.
"Tonight [Friday, June 6 in São Paulo, Brazil] I had to walk off the stage for only the second time ever. The first [time it happened] in Toronto [during the first Gigantour]. "My apologies to everyone who didn't understand, but my ears are very important to go forward in my career, and I had to stop the show to fix this.
"I love you all, and I am sorry for the delays. But I only want the best for you."MEGADETH's setlist for last night's (Friday, June 6)
concert
in São Paulo, Brazil was as follows:
01. Sleepwalker
02. Wake Up Dead
03. Take No Prisoners
04. Skin O' My Teeth
05. Washington Is Next!
06. Kick the Chair
07. In My Darkest Hour
08. Hangar 18
09. She Wolf
10. A Tout Le Monde - Chris's solo
11. Tornado of Souls
12. Ashes In Your Mouth
13. Burnt Ice
14. Symphony of Destruction
15. Sweating Bullets
16. Peace Sells
posted by Unknown @ 12:18

Aerosmith Singer Out Of Rehab!
Saturday, 7 June 2008
Aerosmith rocker Steven Tyler is fine and recovering from a foot problem that forced him into rehab, according to his actress daughter Liv. The singer checked into a facility in Pasadena, California, last month, prompting speculation he had slipped from sobriety, 20 years after he kicked hard drugs. Tyler later revealed he was in rehab on doctor's orders because of a foot injury. And Liv insists her father is on the mend. She says, "He had a foot problem, but he's fine. There's this funny thing my father says when I ask him how he is. He says, 'I'm F.I.N.E. F'd up, insecure, neurotic and emotional.' So he's F.I.N.E. fine!"
posted by Unknown @ 13:27

Korn's New Solo Album!
Friday, 6 June 2008
Former Korn guitarist and founding member Brian "Head" Welch will release his debut solo album, entitled "Save Me From Myself", on September 9 via Driven Music Group.
The CD's first single, "Flush", will be made available exclusively via iTunes on July 8. For more than a decade, Brian "Head" Welch was lead guitarist for the controversial rock band Korn, but in early 2005 he shocked the international music community when he abruptly quit the band and announced that he had been saved by Jesus Christ.
His announcement in front of 10,000 people in Bakersfield, California set off a media frenzy, as people from around the world sought to understand what led this rock star into the light.
Labels: Debut Album, Headcase, Korn, Releasing, Solo
posted by Unknown @ 17:37

Bullet For My Valentine Concert!!!!
Thursday, 5 June 2008
Sponsored by the No Fear clothing company, the first leg of Bullet For My Valentine's North American tour will run to mid-August (dates below); the second leg will run throughout September, dates to be announced shortly. Joining Bullet For My Valentine for the tour will be Bleeding Through and on select dates, Cancer Bats and Black Tide. A "fan club presale" begins tomorrow, Wednesday, May 28 - log onto
http://www.ticketmaster.com/artist/1225351
for more info, while tickets go on sale to the general public the following weekend.
Here are the dates:
JULY
14 The Rave, Milwaukee, WI
15 House of Blues, Chicago, IL
16 Myth, Minneapolis, MN
17 The Venue, Fargo, ND
19 Shrine, Billings, MT
21 The Big Easy, Spokane, WA
22 Showbox SoDo, Seattle, WA
23 Roseland, Portland, OR
25 Wiltern Theatre, Los Angeles, CA
26 House of Blues, Las Vegas, NV
27 House of Blues, San Diego, CA
29 Marquee, Phoenix, AZ
31 House of Blues, Dallas, TX
AUGUST
1 Verizon Wireless, Houston, TX
2 Stubbs, Austin, TX
5 Rams Head Live, Baltimore, MD
6 House of Blues, Atlantic City, NJ
8 Hammerstein Ballroom, New York, NY
9 Hampton Beach Casino, Hampton Beach, NH
11 Metropolis, Montreal, QC, Canada
12 Kool Haus, Toronto, ONT Canada
14 House of Blues, Cleveland, OH
15 Orbit Room, Grand Rapids, MI
16 The Fillmore Detroit, Detroit, MI
Labels: August tour, Bullet For My Valentine's
posted by Unknown @ 18:01

Linkin Pard Projekt Revolution 2008!
Wednesday, 4 June 2008
Linkin Park
has added another big name to the Projekt Revolution 2008 tour. Here is the Live Nation press release with most of the BS removed: Linkin Park has announced that Busta Rhymes will join their Projekt Revolution 2008 lineup. Rhymes and Linkin Park recently collaborated on "We Made It," the first single and video from Rhymes' upcoming album, Blessed.
The fifth installation of Linkin Park's raging road show will see them headlining an all-star bill that features former Soundgarden/Audioslave frontman Chris Cornell, The Bravery and Ashes Divide featuring Billy Howerdel, known for his work with A Perfect Circle.

The Revolution stage will be headlined by DisneyCore act Atreyu and features 10 Years, Hawthorne Heights and Armor For Sleep. Also performing will be Street
Drum
Corps. The tour launches July 16 at the Tweeter Center in Boston.
Heres the dates for you guy's:
7/16 Boston, MA Tweeter Center for the Performing Arts
7/18 Pittsburgh, PA Post-Gazette Pavilion
7/19 Philadelphia, PASusquehana Bank Center
7/20 Hartford, CTNew England Dodge Music Center
7/22 New York, NYNikon at Jones Beach Theater
7/23 Holmdel, NJ PNC Bank Arts Center
7/25 Raleigh, NC Time Warner Cable
Music
Pavilion at Walnut Creek
7/26 Virginia Beach, VA Verizon Wireless Virginia Beach Amphitheater
7/27 Washington, DC Nissan Pavilion
7/30 Charlotte, NC Charlotte Verizon Wireless Amphitheatre
8/1 West Palm Beach, FL Cruzan Amphitheatre
8/2 Tampa, FL Ford Amphitheatre
8/3 Atlanta, GA Lakewood Amphitheatre
8/7 Phoenix, AZ Cricket Wireless Pavilion
8/9 San Francisco, CA Shoreline Amphitheatre at Mountain View
8/10 Irvine, CA Verizon Wireless Amphitheatre
8/12 Denver, CO Fiddler's Green Amphitheatre
8/15 Cincinnati, OH Riverbend Music Center
8/16 Chicago, IL Alpine Valley Music Theatre
8/17 Indianapolis, INVerizon Wireless Music Center Indianapolis
8/19 Cleveland, OH Blossom Music Center
8/21 St. Louis, MO Verizon Wireless Amphitheater St. Louis
8/23 Dallas, TX Superpages.com Center
8/24 Houston, TX Cynthia Woods Mitchell Pavilion
posted by Unknown @ 16:36

R.I.P. Bo Diddley
Tuesday, 3 June 2008
Rock n Roll legend Bo Diddley died of heart failure on Monday and there was no shortage of other rock legends singing his praises including Mick Jagger, Robert Plant, BB King and Slash.
"He was a wonderful, original musician who was an enormous force in music and was a big influence on The Rolling Stones," said Mick Jagger in a statement. He was very generous to us in our early years and we learned a lot from him. We will never see his like again."
According to the
BBC
, Led Zeppelin frontman Robert Plant said Diddley's "voice and relentless, glorious anthems echo down through my years This royal shape shifter continues to influence four generations of musicians on a daily basis," he added.
BB King, praised Diddly as "a music pioneer and legend with a unique style. We always had a good time when we played together. He will truly be missed, but his legacy will live on forever," King, 82, said through his publicist according to
AFP

Slash told NME.COM that Diddley greatly influenced countless musicians, and the Bo Diddley beat was the inspiration for Guns N Roses' song 'Mr Brownstone'.
"He's a huge hero of mine and the fact that he knew who I was a huge compliment," Slash said. "Bo Diddley created a myth that was uniquely his own. An entire rhythm is owed to just one guy and that's pretty rare," he said. -
Read Grateful Dead drummer Mickey Hart's tribute at NME
posted by Unknown @ 16:27

A new feature for Pibbz website is here!!!!
Monday, 2 June 2008
A new feature for Pibbz website is here!!!!
Wanna learn a new song? Need A Tab? Cant Find It? Well just request for a tab in the comments box, and i will try to post the tab as soon as possible!!!!
posted by Unknown @ 07:00

AC/DC confirm new album rumours...
Sunday, 1 June 2008
Not that much info on their new album so im going to have to keep it short, sorry guys......
AC/DC
have confirmed that they are working on a new album, which they plan to release later this year.In a posting today (April 18) on the band's website, they revealed that they have been recording new material in Vancouver with producer Brendan O'Brien (
Pearl Jam
,
Bruce Springsteen
).This will be the veteran Australian rockers' first new album since 2000's 'Stiff Upper Lip'.
posted by Unknown @ 14:43