My Songs
Listen To Velvet Revolver!!!
About Me
Broadway To Hell?
Sunday, 13 July 2008
According to the weekly UK-based celebrity and pop music newsletter Popbitch, a musical featuring the hits of AC/DC "may be in the pipeline." If the report is to be believed, the Australian band's songs will be combined with the Mark Wahlberg movie "Rock Star" for a theater production.
Other groups who have had their back catalogs used in musicals include QUEEN, ABBA and MADNESS.AC/DC's new album may be titled "Black Ice", according to Australian web site Undercover News. That title is apparently one of three that the band is considering for its first album of new material in eight years, with "Runaway Train" another possible contender.
A release date has yet to be announced for the disc, but it could arrive as early as October.The new album will follow 2000's "Stiff Upper Lip". It was recorded at a Canadian studio with PEARL JAM and BRUCE SPRINGSTEEN producer Brendan O'Brien.
Sony BMG recently revealed that the disc will be sold exclusively through Wal-Mart stores, which has caused controversy with critics and fans.
posted by Unknown @ 18:12

HURRY!
Thursday, 10 July 2008
They may or may not be doing a full reunion tour but Zeppelin are keeping busy coming up with ways to keep their most loyal fans happy. Here is the latest:
Led Zeppelin
have arranged for the manufacture of a very special Limited Edition White Vinyl version of 'The
Song
Remains The Same'. There are only 100 of these being made available for sale (and only 200 in existence). All 100 of these special editions are being sold through LedZeppelin.com, direct to fans.
The only way that you could stand a chance of getting hold of this rare version is to pre-order the 'The Song Remains The Same' Vinyl direct from LedZeppelin.com (see link below). The White Vinyl versions will be sent to customers who are picked at random.
In related news, "The Song Remains The Same" soundtrack will be expanded and remastered with six additional historic song performances on a deluxe 4-LP reissue featuring Liner Notes by Cameron Crowe.. 4LP-180 Gram Vinyl Box is set for release July 22nd. -
Limited Edition White Vinyl Preorder link
posted by Unknown @ 15:31

Velvet Found A New Singer?
Sunday, 6 July 2008
Matt Sorum, drummer for VELVET REVOLVER, has revealed the following to Artisan News Service about the next chapter of his band - following the recent departure of vocalist Scott Weiland, who returned to his former outfit STONE TEMPLE PILOTS.
"We're coming out with something in a couple of weeks and I think it's going to surprise everybody. It's exciting. We're moving forward. We're going to keep going and play rock n roll and get a new guy singing so, we did it before we'll do it again."
Sorum went on to say, "We're really seriously thinking about doing something online. Yeah, we got offered a couple of different television ideas you know. Mark Burnett called us and asked us to do that Rockstar thing and we basically said 'No!' to that.
We didn't feel it was right for us. No disrespect to him but it just didn't feel right for what we want to do. As many years as we've tried to keep our integrity intact we felt that wasn't the right forum for us to do it so, we got some ideas and we should have that news in a couple weeks."
posted by Unknown @ 11:04

Free Bon Jovi Gig?!!?
Tuesday, 1 July 2008
Iconic New Jersey rockers Bon Jovi will play a free concert in Central Park on July 12, mayor Michael Bloomberg announced today (June 30).Alongside frontman Jon Bon Jovi, as well as officials from Major League Baseball and Bank of America, Bloomberg outlined the details of the event at a City Hall press conference.
The show, billed as an "All-Star Concert in Central Park," will take place in conjunction with the Major League Baseball All-Star Game, which is set for July 15 at Yankee Stadium."We've gotten the chance to bookend what is the most successful tour in the world this year with a free concert for anyone in New York," Bon Jovi said.
"I just traveled the world again, and New York is still the greatest city in the world."The concert will take place at 8 p.m. on the park's Great Lawn and will not be televised. Fans will be allowed to enter the area beginning at 2 p.m. Tickets will be available beginning July 2 at baseball parks as well as at events throughout New York.
The majority of the tickets will be available at Yankee Stadium, but will also be available at Shea Stadium and at the parks of the Brooklyn Cyclones and Staten Island Yankees. Additionally, tickets will be available through radio sweepstakes, promotional giveaways and in-store programs. Fan can also get tickets at MLB.com.
No more than 60,000 tickets will be distributed in an attempt to maintain the safety and integrity of the lawn's grass, Bloomberg said. "Our interest is in keeping the park open and making sure at the same time that we protect the investment the public has made," he said.Bon Jovi said fans should expect a full-blown rock show despite the restrictions in place to protect the grass. "This will be our major stadium production," he said.The band's "Lost Highway" tour wraps July 14-15 in New York.
posted by Unknown @ 18:18

Slash 1 Million Dollars Civil Suit!
Saturday, 28 June 2008
Velvet Revolver guitarist Slash and his wife, Perla, can move forward with a $1 million civil suit they filed against a real estate agent and his firm, alleging they were duped into buying a house that did not have the amenities they expected, a judge ruled today.
The suit, filed last November in Los Angeles County Superior Court and amended in mid-March, names Gregory Holcomb and Sotheby's International Realty as defendants.
Judge Mel Red Recana denied defense motions to dismiss the portions of the suit alleging fraud, constructive fraud, negative fraud and breach of fiduciary duty, and to strike the claim for punitive damages.

He scheduled a Feb. 17 trial date and urged both sides to consider resolving the case with the help of a mediator.
The couple allege they thought they had found their dream house in December 2005 and believed it was on a private, gated street in the Hollywood Hills. Although the street is gated, it is public and has very little parking, according to their court papers.
The rocker and his wife also say the home was much smaller than 7,800 square feet, as listed, and that there were other issues with the title to the property.
"It's hard to imagine conduct that is worse than a real estate agent intentionally misleading and/or withholding critical information from a purchaser so that a sale would close and a commission would be paid," their court papers state.

But the defense court papers maintain that Holcomb and Sotheby's had no way of knowing that the Multiple Listing Service description of the home was incorrect and that it was not actually on a private street.
For those that dont already know, Slash, whose real name is Saul Hudson, became famous as the lead guitarist for Guns N' Roses.

Labels: 1 Million Dollars, Civil Suit, Slash, Wife
posted by Unknown @ 09:16

Gibson Les Paul Slash Signature Review
Thursday, 26 June 2008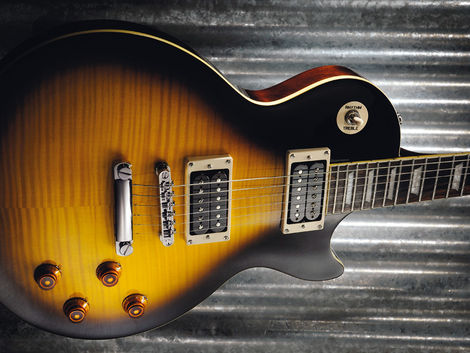 This is the guitar that i want, i mean it looks beautifull, it sounds great(from what i heard), so here is a review for all the people that want to know what the fuss about Les Paul's is about...
Features:
Made in the USA. 22 frets. Mahogany body and neck, with the neck being set to Slash's personal specifications. It is so thin and comfortable it blows every other Les Paul I've played away. Beautiful flamed maple top. Tonepro stop
bar
and bridge. 2 tone, 2 volume controls and 3-way selector switch. Seymour Duncan Alnico Pro-II humbuckers. Non-locking Kluson copy tuners.// 10
Sound:
I play from classic rock to metal and it fits perfectly no matter what I am playing. It can do sweet
clean
tones, metal crunch, and everywhere in between depending on how you set your amplifier. It's not noisy at all.// 10

Action, Fit & Finish:
It was set up perfectly, the action was great. The pickups didn't need any adjustment.
The bridge
was properly routed. I can't find any flaws on the whole guitar and I've looked over the entire thing in and out. The finish looks beautiful and can looks like it will last as long as I own the guitar. All of the chrome is perfect. The pickup selector isnt noisy at all. Everything was perfect right out of the box. // 10
Reliability & Durability:
This guitar seems like it can take abuse well, my friend smacked the bottom against a chair and it didn't leave a mark. The hardware is totally solid and seems like it will last. I replaced the strap buttons so I don't really know. I could easily gig without a backup, but anything could happen so I would always bring a spare just in case. The finish seems just as solid as the rest of the guitar. // 10

Impression:
I play anything from classic rock to metal and it can do it all with just a little adjustment of your amplifer. I have been playing for only 5 years but that doesn't mean I don't know what's good. I also have an Epiphone Les Paul with EMG pickups and a B.C. Rich warlock all played through a Marshall amp and there isnt even a contest. If it were stolen or lost I would definetly get a new one no question. I love the skull and crossbones picture on the headstock instead of the "Les Paul model". It just looks badass. I love everything about it, and I can't seem to find anything I hate. Like I said it before I compared it to some
guitars
in a guitar shop and it blew them all away. They was a Dean ML, a Paul Reed Smith Mira, a
Gibson Flying V
, a Gibson SG, and a
Gibson Les Paul Studio
all played through a Marshall amp and the only thing that even came close was the SG and and Mira but it still outshined all of them. I only wish the case came with a lock so my friends can't steal it but that's the only thing. If you get the chance buy one. // 10

Features:
10
Sound:
10
Action:
10
Reliability:
10
Impression:
10
Overall rating:
10
CREDITS TO: Ultimate Guitar
Want Another Review? Leave A Comment...
posted by Unknown @ 17:59

CHILDREN OF BODOM Frontman: 'I'm So Not Into The Whole BLABBERMOUTH Bullsh*t'
Monday, 23 June 2008
UK's Zero Tolerance magazine recently conducted an interview with CHILDREN OF BODOM guitarist/vocalist Alexi Laiho. A couple of excerpts from the chat follow.
On the element of CHILDREN OF BODOM's non-fanbase that views him as a bleach-blond pretty boy who insists on making all the rules in his band:
Alexi: Well, the thing is, I write the music and lyrics. The other guys do participate, and we work and rehearse together as a band. Still, there has to be someone who calls the shots, otherwise nothing gets done. I can settle disagreements and be a deciding vote without being a f*cking dictator. I guess what I'm trying to say is that those people who think that way also do not live my life. They can think what they want, and I don't care."
On Internet criticism that CHILDREN OF BODOM hasn't paid the dues for the ride which the band currently enjoys:
Alexi: "I think we have. First, we've been doing this sh*t since we were 13 and 14, and didn't get anything even released until after five years of practicing. We did well enough on that first album to make a second, and well enough on the second to make a third, and so on. I'm not going to intentionally make bad music so that people can feel better about themselves. . . I'm so not into the whole Blabbermouth bullsh*t, either. I barely go to our own homepage anymore. I have more important things to do than worry about the three guys online hugging each other, trying to decide if I'm 'metal enough' or not."
Labels: Blabbermouth, Children Of Bodom
posted by Unknown @ 17:38