My Songs
Listen To Velvet Revolver!!!
About Me
Young Talent.....
Saturday, 31 May 2008
First of all i would like to say sorry for not posting till late today................Here are some great young players:
8 Year old playin amazing solo!!!!!!
&


12 year old jamming to You Shook Me All Night Long AC/DC.....
posted by Unknown @ 17:29

The Most Expensive Guitar & Pick In The World!!!
Friday, 30 May 2008
"Blackie", Eric Clapton's favorite mid-career modified Strat has been surpassed in value and is no longer the most expensive guitar ever, despite that it was bought for $950,000 USD in 2004 by a guitar archaeologist.
The latest most expensive electric guitar in the world dethroned its predecessor at an auction in Doha, Qatar on November 16th, 2005. The Strat was signed by several rock musicians to benefit a tsunami charity, 'Reach out to Asia'. It was bought one year ago by Qatar's royal family for a million dollars and donated back to the Asia Program, bringing in $2.7 million USD at the more recent auction, whose attendees included Former President Bill Clinton. Technically, the guitar has generated a total of $3.7 million USD, making it the most expensive guitar yet.
Signees of this expensive electric guitar included Mick Jagger, Keith Richards, Eric Clapton, Brian May, Jimmy Page, David Gilmour, Jeff Beck, Pete Townsend, Mark Knopfler, Ray Davis, Liam Gallagher, Ronnie Wood, Tony Iommi, Angus & Malcolm Young, Paul McCartney, Sting, Ritchie Blackmore, Def Leppard, and Bryan Adams, the coordinator of the project.
If you're looking for a guitar pick, there's no shortage of different shapes, styles and materials available for you to choose from. Customized picks have been prevalent since the days when Rick Nielsen of Cheap Trick would throw hundreds of them out into the audience. In fact, most famous guitarists have their own custom guitar pick. Even among the myriad of different styles, some plectrums are more unique than others. The world's most expensive guitar picks are some of those.
Starpics, an Australian company known for plectrums made of precious metals, created a completely unique pair of guitar picks. Like their other picks, they're guaranteed to last pretty much forever and to significantly reduce string breakage. So what makes these picks so special?
They're made of meteors.
These two luxury picks were fashioned from pieces of Gibeon meteorite. Said to be around 4 billion years old, Gibeon meteorites were discovered in 1836 in Namibia, Africa, where their sale and export were banned by the local government. Despite that fact, over twenty-five tons of the meteorites have been recovered and it is the most commonly found meteorite on the market today. One of the most interesting things about the meteorites is the pattern of Widmanstatten lines created by their frigid passage through space. These patterns are preserved in the picks and can be seen in the picture above.
posted by Unknown @ 09:11

Linkin Park Collab With Busta Rhymes...
Thursday, 29 May 2008
Two years ago almost to the day, Swizz Beatz crowned Busta Rhymes King of New York onstage
at Hot 97's Summer Jam
in the single least defensible display of rap bravura I've ever witnessed. Busta was in that show's de facto headliner spot (second-to-last, since everyone leaves when the last act is on), and he built up to his big coronation by trotting out every NY rap legend he had in his rolodex for one song each: Wu-Tang, Rakim, Slick Rick, Big Daddy Kane, Q-Tip.
But not even the goodwill he earned with those twenty minutes of euphoric stadium-rap nostalgia could make the coronation any less ridiculous. Busta Rhymes is not made of kingly material. At his creative and commercial peak, he was basically a really funny guy who wasn't afraid to dress in stupid costumes in his videos and who could rap really fast. He was impossible to hate, but nobody expected him to personify an entire city's hopes and dreams, either. The Big Bang, the album he was pushing at that show, was meant to change all that.
It didn't. It failed. That album, Busta's first for Dr. Dre's Aftermath label, played host to a series of garbage-ass singles (one of which, the godforsaken "Touch It" remix, stayed in heavy radio rotation way, way past its sell-by date). And right around the time it was failing utterly to turn Busta into a Serious Rap Star, Busta himself worked hard to become one of rap's most loathsome figures. He got himself arrested for some of the dumbest, least sympathetic reasons ever (beating up a teenager who'd spit on his car, beating up a driver who'd demanded the wages he was owed), he refused to talk to police after an assistant was killed on his video shoot, and he gave nonsensical vein-popping interviews to anyone who would listen.
For a minute there, it looked like Busta Rhymes might become rap's first roid-related heart-attack fatality. Now, all of a sudden, he's back, and he might even be that really funny fast-rapping guy he once was.
Listen to the track
HERE
.

posted by Unknown @ 09:28

Girl Commits Suicide For The Black Parade!
Wednesday, 28 May 2008
My Chemical Romance have responded to claims that their music somehow inspired a 13 year-old UK girl to commit suicide. Earlier this month an inquest was held where the girl's parents and coroner Roger Sykes testified that the girl, Hannah Bond, was influenced by her love of emo music, specifically My Chemical Romance.

It was also revealed that the girl had a history of self-harm, her father said that Bond had hurt herself before and claimed that it was an emo initiation ceremony. The coroner Sykes testified, "the emo overtones concerning death and associating it with glamour I find very disturbing."
The girl reportedly told online friends of her plans to hang herself and live on in the afterlife as a member of "The Black Parade" - the title of a My Chemical Romance album.
The band has responded to this story with this statement: "We have recently learned of the suicide and tragic loss of Hannah Bond.
We'd like to send our condolences to her family during this time of mourning. Our hearts and thoughts are with them. My Chemical Romance are and always have been vocally anti-violence and anti-suicide. As a band, we have always made it one of our missions through our actions to provide comfort, support, and solace to our fans.
"The message and theme of our album 'The Black Parade' is hope and courage. Our lyrics are about finding the strength to keep living through pain and hard times. The last song on our album states: 'I am not afraid to keep on living' – a sentiment that embodies the band's position on hardships we all face as human beings.
posted by Unknown @ 10:20

Mark Burnett wasnt right for Velvet Revolver???
Tuesday, 27 May 2008
Matt Sorum, drummer for Velvet Revolver, has revealed the following to Artisan News Service about the next chapter of his band, following the recent departure of vocalist Scott Weiland, who returned to his former outfit Stone Temple Pilots.
"We're coming out with something in a couple of weeks and I think it's going to surprise everybody. It's exciting. We're moving forward. We're going to keep going and play rock n roll and get a new guy singing so, we did it before we'll do it again."
Sorum went on to say, "We're really seriously thinking about doing something online. Yeah, we got offered a couple of different television ideas you know. Mark Burnett called us and asked us to do that Rockstar thing and we basically said 'No!' to that. We didn't feel it was right for us. No disrespect to him but it just didn't feel right for what we want to do.
posted by Unknown @ 10:38

The Pigeon Detectives New Album Out Today!
Monday, 26 May 2008
Well i bought this album this morning, and found out it only came out about a week ago so i decided to let you know The Pigeon Detectives Emergency album history.....
Pigeon Detectives return with their second album, two days to the year since the release of debut long-player Wait For Me, and they've tackled the difficult second album syndrome by refining the 'Topman indie' formula of its predecessor.
Emergency is an album of simple, tightly executed floor-fillers that would sound samey if they weren't so darned catchy. Don't expect any experimental meanders; if you set aside lofty assertions you'll appreciate the instant appeal of these punchy tracks which will surely find their way into indie discos everywhere.
The whole album seems like a fond soundtrack to a night of cheap lager and sticky dancefloors.
Just when you fear the material is becoming too repetitive, three of the best tracks pop up in succession. I'm A Liar, You Don't Need It and Say It Like You Mean It are stomping blasts, echoing 60s girl groups like the Shangri-Las.
However, the disposable hooks become tiring by track 11, and the band could have slimmed the album down to create back-to-back singalong tunes. First offender worth removing is token slow song, Nothing to Do With You, a more forgettable version of the Maccabees' Toothpaste Kisses.
The Pigeons aren't going to win any awards for their lyrics, and most of the unimaginative track titles are lines from the choruses. This may seem a strange bugbear, but with songs like Love You For A Day (Hate You For A Week) you just wish they'd picked something less obvious.
As today's pop scene is saturated with indie schmindie bands it would be easy to slate this album for its lack of originality, but Emergency deserves praise for delivering a consistently
high standard of accessible guitar pop. One hit wonders this band ain't.
Three Words: Buy This Album
posted by Unknown @ 14:18

The Zutons V Coldplay
Sunday, 25 May 2008
The Zutons think
Coldplay
will stop their new album reaching number one.
The band, from Liverpool, England, release their third album, 'You Can Do Anything', just days before Chris Martin's band release Viva la Vida or Death and All His Friends in June.

The Zutons' frontman Dave McCabe says the release is likely to stop his band topping the charts - but insists he doesn't mind.
He said: "It means our album can't be number one or number two - there'll be something else out - but it doesn't really bother me.

It's not like we hate them or we're similar. People should know to buy us anyway!"
Coldplay have announced they will play free concerts to
support
their album's release, but Dave says they won't be doing anything similar.

He added: "We're not doing anything free, we're not Coldplay, we are not big enough to do a Radiohead or a Coldplay. We'd only do a free gig for a
charity
we supported."

Who do you think will reach number 1?? Have a vote in the Poll....
posted by Unknown @ 08:05

Gibson Robot Guitar!!!!!!!!!!!
Friday, 23 May 2008
My dream guitar is a Gibson Les Paul, and as soon as i saw 'GIBSON ROBOT GUITAR' on google i couldnt help but click and read all about it, heres what i found.....


The electric guitar — the most popular musical instrument, in its simple beauty, remains technologically unchanged since the 50s of the last century. Until now.
Gibson Guitar Corp. ties up with German robotics company Tronical Gmbh to enable Gibson's newest Les Paul model to recognize pitch and tune itself in about two seconds. Musicians will find this technology particularly useful, especially for beginners who find tuning a headache.
It's a convenience, too, for professionals. This Robot Guitar can store personal tuning preferences and makes them available for easy implementation at the push of a button.
The Gibson Robot Guitar is equipped with the revolutionary PowerTune System developed by Tronical Gmbh of Hamburg, Germany. PowerTune is the world's first self-tuning system for electric guitars.
Gibson has just signed a world wide agreement with Tronical for the exclusive sale and distribution of PowerTune, in both new guitars and upgrade kits.

The Gibson Robot Guitar is a real innovation which promises to banish, once and for all, the tuning problems guitarists often have. Its PowerTune System consists of three components: the Powerheads, the Tune-Control Bridge, and the Master-Control Knob.
The Powerheads is a multiple machine heads which still can be adjusted manually. The Tune-Control Bridge is where each string is picked-up individually and at the same time the frequencies are measured.
The Master-Control Knob is the headquarter of the PowerTune system and communicate via the strings with the Powerheads.

~ Equipped with Tronical's PowerTune System
The PowerTune system works by executing instructions (set from the Master-Control Knob by the player) from its CPU. These programmed instructions are implement by the Powerheads equipped with tiny electric motors.

As the motorized tuners adjust the tuning, the pitch of the string is monitored by the Tune-Control bridge. When the player strums the strings, the Powerheads will adjust the tuning automatically and precisely in seconds.
Electrical power for the tuning mechanism is supplied via the guitar strings. All LED indicators in the Master-Control Knob will flash blue 3 times when tuning is complete.
You don't have to make frequent trips to the shop for tuning setups anymore. Gibson Robot Guitars will be on sale in select stores globally on December 7, 2007. Since it is a limited edition, only 10 will be on sale per store in its first run. A Robot Guitar is priced at $2,499.
posted by Unknown @ 19:09

The History Of Guns N' Roses....
Thursday, 22 May 2008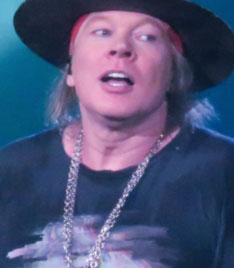 Current Members

Axl Rose
-vocals (1985-)

Tommy Stinson
- Bass (1997-)

Brian Mantia
- Drums (2001-)

Richard Fortus
- Guitars (2002-)

Robin Finck
- Guitars (2002-)

Dizzy Reed
-Keyboards (1990)

Chris Pittman
-live keyboards and Sound Effects (1998-)

Originating in
Los Angeles
in
June
1985, Guns N' Roses' unique style incorporated
punk
,
blues
,
thrash
, and other genres of music into what was popular at the time:
hair metal
. The band was formed by singer
Axl Rose
, guitarist
Tracii Guns
, guitarist
Izzy Stradlin
, bassist
Duff McKagan
, and drummer
Robbie Gardner
. The name was derived from a combination of Guns and Rose's pseudonymous last names, while earlier band names in the same vein had been Rose and Hollywood Rose. Fans often shorten the name to the 'Gunners'.

When Tracii and Robbie could not attend the Guns N' Roses' first show (in Seattle), Axl called guitarist
Slash
and drummer
Stephen Adler
who he had met recently and asked if they would play. The two agreed and the band's original line-up was finalized.

The band released a self-produced EP,
http://en.wikipedia.org/wiki/Live_Like_a_Suicide_%28album%29
, in 1986. Copies of the EP reached
Geffen Records
executives who soon signed the band.
Appetite for Destruction
, GNR's Geffen debut, was released on August 21, 1987. The album sold 20 million copies, had three top 10 singles, and hit #1 on the charts. Appetite For Destruction remains as one of the best selling debut album of all-time.

Guns N' Roses' next release was the acoustic cd
G N' R Lies
in 1988 which hit #2 on the music charts. The album was also a source of controversy when one song, 'One In A Million' featured Axl Rose using the words '
niggers
' and '
faggots
', resulting in many accusing the band (or Axl) of
racism
and
homophobia
, which Axl denied citing the fact that his (then) lead guitarist was half black and that he was a big fan of homosexual singers such as
Freddie Mercury
and
Elton John
. Contributing
Welcome to the Jungle
to the soundtrack of movie
The Dead Pool
(in the
Dirty Harry
series) gave the band a couple of seconds onscreen in the movie.

In 1989, Guns N' Roses were presented with the
American Music Award
for favorite Pop/Rock single for Sweet Child O' Mine. At the televised annual award show in 1989, Duff McKagen and Slash appeared intoxicated and used strong language while accepting the award for Best Heavy Metal Album for Appetite For Destruction, and Best Heavy Metal Song for Paradise City. Because of the incident, subsequent American Music Award shows have been broadcast using a five second delay.



Enjoyed reading this? Request more by sending me an
email
, or comment telling me what band you choose....
posted by Unknown @ 18:10

Any requests???
Wednesday, 21 May 2008
While trying to play Sweet Child O' Mine by Guns n' Roses i got an idea and basically you can request a song and if i manage to play it i will post it up and and include it in my list of songs i can play....
And please dont go crazy on me by asking for some Eddie Van Halen solos for ive only been playing for 2 months, im only trying this out to see if it goes well and again please dont request any crazy fast speedy songs........thnkz......
posted by Unknown @ 17:51

Welcome To My Blog!!!
Tuesday, 20 May 2008
Im 13 and i love playing on my electric guitar... I'm into abit of Iron Maiden, Dio, Guns n Roses, The Darkness, Bullet For My Valentine, Trivium, Black Sabbath, Judas Priest and many more.......
My dream guitar would be a Gibson Les Paul, my favourite guitarists are Jimi Hendrix & Slash, ive got a Stagg Sunburst Stratocaster, and a smallish amp, i started playing guitar 2 months ago(or so) and i plan on never stopping...
My favourite colour - Green
My favourite food - Chicken or Macdonald's :D
My favourite drink - Coke :D
My favourite movie ever - ummmmm Tenacious D? i think
My favourite song ever - Afterlife - Avenged Sevenfold
My favourite singer - i havent got one...
My favourite country - Portugal :DDD
My favourite football team -SPORTING! :DDDDDDD
My favourite friend - errr Ally
My favourite day of the week - Friday :DDD
My favourite Month of the year - June :DDDDD
My favourite TV show - Ugly Betty :DD
My favourite footwear - Trainers (Y)
My favourite Pet - Dog, Tuga!
My favourite Car - Chrysler 300C
My favourite Actor - Jack Black
My favourite Quote - JOKING!
My favourite type of music - Rock

If today was the last day of the World what you would like to do?
ummmmmm.......read a book.... JOKING!.....get it? :D

If you were Prime Minister for one day what the 3 things you would do first?
well, buy all the guitars in the world, make us rich, and get the biggest tv in the world

Your biggest dream -
To be a rockstar!

What you love the most -
i dont really know......

What do you hate de most -
fat people :DDD im not mentioning any names.........but DAD! :D

Tell a secret about yourself -
hehehe u wish ;)

One thing i will never do in my life -
never say never...

One thing I will definitely do in my life -
get a chrysler 300c!
posted by Unknown @ 18:20