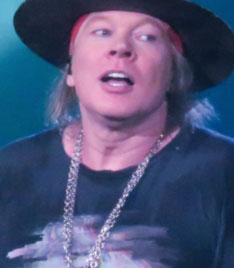 Current Members

Axl Rose
-vocals (1985-)

Tommy Stinson
- Bass (1997-)

Brian Mantia
- Drums (2001-)

Richard Fortus
- Guitars (2002-)

Robin Finck
- Guitars (2002-)

Dizzy Reed
-Keyboards (1990)

Chris Pittman
-live keyboards and Sound Effects (1998-)

Originating in
Los Angeles
in
June
1985, Guns N' Roses' unique style incorporated
punk
,
blues
,
thrash
, and other genres of music into what was popular at the time:
hair metal
. The band was formed by singer
Axl Rose
, guitarist
Tracii Guns
, guitarist
Izzy Stradlin
, bassist
Duff McKagan
, and drummer
Robbie Gardner
. The name was derived from a combination of Guns and Rose's pseudonymous last names, while earlier band names in the same vein had been Rose and Hollywood Rose. Fans often shorten the name to the 'Gunners'.

When Tracii and Robbie could not attend the Guns N' Roses' first show (in Seattle), Axl called guitarist
Slash
and drummer
Stephen Adler
who he had met recently and asked if they would play. The two agreed and the band's original line-up was finalized.

The band released a self-produced EP,
http://en.wikipedia.org/wiki/Live_Like_a_Suicide_%28album%29
, in 1986. Copies of the EP reached
Geffen Records
executives who soon signed the band.
Appetite for Destruction
, GNR's Geffen debut, was released on August 21, 1987. The album sold 20 million copies, had three top 10 singles, and hit #1 on the charts. Appetite For Destruction remains as one of the best selling debut album of all-time.

Guns N' Roses' next release was the acoustic cd
G N' R Lies
in 1988 which hit #2 on the music charts. The album was also a source of controversy when one song, 'One In A Million' featured Axl Rose using the words '
niggers
' and '
faggots
', resulting in many accusing the band (or Axl) of
racism
and
homophobia
, which Axl denied citing the fact that his (then) lead guitarist was half black and that he was a big fan of homosexual singers such as
Freddie Mercury
and
Elton John
. Contributing
Welcome to the Jungle
to the soundtrack of movie
The Dead Pool
(in the
Dirty Harry
series) gave the band a couple of seconds onscreen in the movie.

In 1989, Guns N' Roses were presented with the
American Music Award
for favorite Pop/Rock single for Sweet Child O' Mine. At the televised annual award show in 1989, Duff McKagen and Slash appeared intoxicated and used strong language while accepting the award for Best Heavy Metal Album for Appetite For Destruction, and Best Heavy Metal Song for Paradise City. Because of the incident, subsequent American Music Award shows have been broadcast using a five second delay.



Enjoyed reading this? Request more by sending me an
email
, or comment telling me what band you choose....