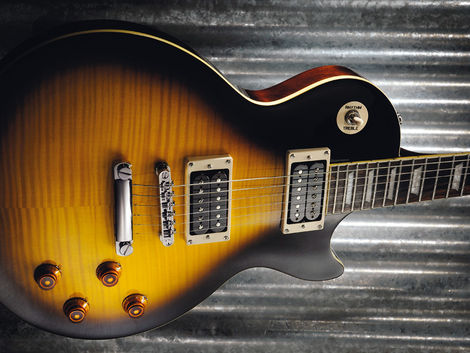 This is the guitar that i want, i mean it looks beautifull, it sounds great(from what i heard), so here is a review for all the people that want to know what the fuss about Les Paul's is about...
Features:
Made in the USA. 22 frets. Mahogany body and neck, with the neck being set to Slash's personal specifications. It is so thin and comfortable it blows every other Les Paul I've played away. Beautiful flamed maple top. Tonepro stop
bar
and bridge. 2 tone, 2 volume controls and 3-way selector switch. Seymour Duncan Alnico Pro-II humbuckers. Non-locking Kluson copy tuners.// 10
Sound:
I play from classic rock to metal and it fits perfectly no matter what I am playing. It can do sweet
clean
tones, metal crunch, and everywhere in between depending on how you set your amplifier. It's not noisy at all.// 10

Action, Fit & Finish:
It was set up perfectly, the action was great. The pickups didn't need any adjustment.
The bridge
was properly routed. I can't find any flaws on the whole guitar and I've looked over the entire thing in and out. The finish looks beautiful and can looks like it will last as long as I own the guitar. All of the chrome is perfect. The pickup selector isnt noisy at all. Everything was perfect right out of the box. // 10
Reliability & Durability:
This guitar seems like it can take abuse well, my friend smacked the bottom against a chair and it didn't leave a mark. The hardware is totally solid and seems like it will last. I replaced the strap buttons so I don't really know. I could easily gig without a backup, but anything could happen so I would always bring a spare just in case. The finish seems just as solid as the rest of the guitar. // 10

Impression:
I play anything from classic rock to metal and it can do it all with just a little adjustment of your amplifer. I have been playing for only 5 years but that doesn't mean I don't know what's good. I also have an Epiphone Les Paul with EMG pickups and a B.C. Rich warlock all played through a Marshall amp and there isnt even a contest. If it were stolen or lost I would definetly get a new one no question. I love the skull and crossbones picture on the headstock instead of the "Les Paul model". It just looks badass. I love everything about it, and I can't seem to find anything I hate. Like I said it before I compared it to some
guitars
in a guitar shop and it blew them all away. They was a Dean ML, a Paul Reed Smith Mira, a
Gibson Flying V
, a Gibson SG, and a
Gibson Les Paul Studio
all played through a Marshall amp and the only thing that even came close was the SG and and Mira but it still outshined all of them. I only wish the case came with a lock so my friends can't steal it but that's the only thing. If you get the chance buy one. // 10

Features:
10
Sound:
10
Action:
10
Reliability:
10
Impression:
10
Overall rating:
10
CREDITS TO: Ultimate Guitar
Want Another Review? Leave A Comment...